Saturday, December 2nd, 2023
Broken Goblet Brewing
Bensalem, PA 19020
18+ to Enter / 21+ to Party
Sets by A Wilhelm Scream, No Trigger, Bitter Branches, You Vandal, Broadcaster, All Eyes West, Metroplex, Title Holder, Bad Planning, American Thrills, Wes Hoffman & Friends, Worried Sick and Last Century.
It only makes sense that Jump Start Records would celebrate 25 years of putting out records in the middle of a global pandemic, right? So yeah, the 25th Anniversary didn't go down in 2021 like we had hoped, but here we are at 25 plus two and what originally was planned as a label anniversary show has now morphed into 30 MINUTE FEST.
Honestly, the name and idea came about because when you throw a bigger show with more than 4 or 5 bands most of the bands are playing 30 minute sets anyway. Plus, I'm nearly 50 and my surgically repaired right knee isn't fond of standing on hard concrete floors for all that long without being reminded of my place in the hierarchy of this world, not to mention when word got out that I was putting this on a few 'friends of friends' reached out and asked if they could play and I'm a sucker and can never say no.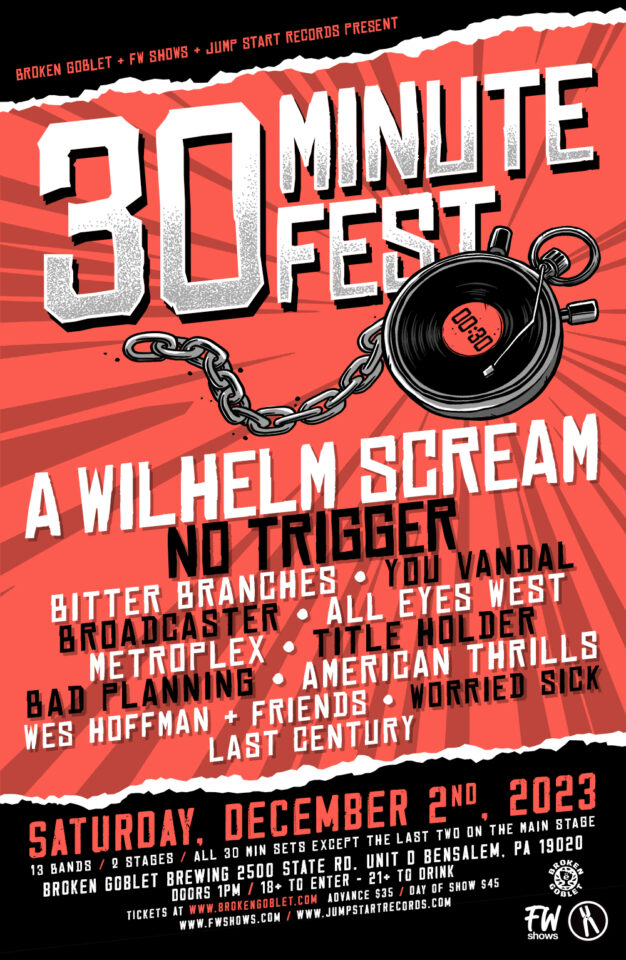 So, here we are, 13 bands all playing 30 minute sets between two stages except for the last two on the Main Stage. I hope to make this a regular thing because I think this is going to be a ton of fun. Fast, loud, and fun. Let's do this!
Head on over to the Broken Goblet website and grab some tickets now and let's party!